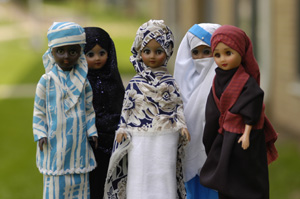 Welcome! Thank you for visiting our new website! We are introducing Aisamah's Originals Collectibles. Our exclusive line of dolls are dressed in custom designed, hand crafted garments, which express the cultural uniqueness of the Global Muslim Woman. Currently we are able to serve customer orders and delivery in the continental United States only.
Our business is located in the US in Philadelphia, Pennsylvania. Our specialty is in the area collectible dolls. We created our first doll in 1985, and we have been providing outstanding products ever since. Our regular customers particularly value the diversity of our collectibles and the quality of our craftwork.
Sister Aisamah, the artist and owner of Aisamah's Originals, enhances the beauty of the Muslim woman of African-descent born in America. Through her many selections of dress, she uniquely designs each garment to express individuality, modesty, and elegance.

Each collectible doll is clothed in originally designed, hand sewn apparel which introduces a variety of Islamic cultural dress codes as embraced by the Muslim African American women.

Each doll features it's own signature card which includes a Dear Beautiful Name and an FYI Lesson.

We are sure that our dolls will prove to be enjoyable conversation pieces for collectors worldwide. We must, however, stress that the dolls are for collectors' display only, and not for children's play.